INSTRUCTIONS: This page is a sample for your own landing page. It is optimized for SEO for keywords and phrases. Replace the word "CITY" with your own specific city so you get local leads. You will also want to add your main CITY to your meta-description. In addition, replace "COMPANY" with the name of your company–both are shown in RED to ensure you remember. Finally, you will create a page off of your product's page so the URL that uses your primary keyword or phrase. See the SEO instructions below for more details.
---
How do you find the best Live Chat Agents?
Do you need live chat agents in CITY to provide customer support and lead generation 24/7?
Problem
You have Live Chat, but your team doesn't work 24/7, and you don't have enough agents to cover your volume (long wait times = bad reviews). You may want to consider managed live chat agents–as a service. However, they are not all the same…

No metrics. They can't tell you the prospect's geography, no visitor tracking, no reporting dashboard, or chat storage—no push email reports.Of course not–it would show off their poor agent support, and you can't improve what you don't track.
Some have bad agents. Some can't speak good English. They "say" they're 24/7… but have 10% staffing during "your prime hours" with LONG wait times. Others are too lightweight for your product type (not vetted and trained, no agent coaching, or dedicated agent options).
Poor quality assurance. Their live chat agents don't get high ratings, the company has too much system downtime, and they don't have an adequate training process.
Difficult setup. Managed agents use software on your system—but the other company doesn't help you set it up. "They" don't have good support, it takes too long, they want an annual commitment, and the "setup" price is often hidden in

CITY

.
Wimpy Software. Many will try to manage your support with home-spun or weak systems: it won't do mobile, can't translate languages, no chat bots (self-serve to reduce live help needs)—the team is not provisioned with the right tools.
Too Pricey. Their live chat agents cost is embarrassingly high, or they have "surprise" charges when you accidentally exceed your chat volume.

So, how do you find a superior managed chat service, whose agents don't have accents, has short weight times, with excellent ratings and metrics, and have little downtime? One that also helps you get things set up quickly and properly in City, uses the best-of-breed systems, all at a price within reach? Perhaps you should consider…
Solution – for Live Chat Agents
Credibility
Owner of Business.com's "BEST Overall Chat Software" 2015, 2016, 2017, 2018, 2019, 2020, 2021, and 2022
G2 High Performer
Sourceforge Top Performer
Used on over 30,000 websites

Notable clients include Rawlings, Waterpik, Phifer, DHL, ADA, Quest, Barracuda, Fresno State University, Everlast, Champion Teamwear, American Management Association (AMA), QLink Wireless, and more!
Solution – Live Chat Agents in
City
There are five main reasons to consider HelpSquad
The BEST Agents and Training
The BEST Quality Assurance
The BEST Data and Dashboard
The BEST Support and Setup
The BEST Chat Software and Bots
Plus the Price Performance Leader. Let's consider each of these in more detail…
Best Live Chat Agents

1. The BEST Agents and Training
Full-time in-house shared or dedicated English fluent live chat agents trained on your company and brand that can handle customer support and lead generation 24/7. The unique offering includes:
Fulltime In-house Agents. Vetted and trained agents can be assigned full-time and always in-house to provide the highest standard of customer support.
Account Specific Training. Agents are trained on FAQ's as well as details about your brand and market focus. Customers will believe they're chatting with members of your own team.
Agent Coaching. Former agents are assigned to model, coach, and review your support team daily to ensure they constantly improve using industry best practices.
30-second First Response time. Once a customer initiates a chat, they are guaranteed to be responded to within 30 seconds–your customers will never be left waiting 24/7 per day.
Dedicated Agents. If your needs are more than just support, you can use the Dedicated agents who can handle more complex requests (support plus CRM entry, or more complex technical support).

Single or Team. Hire as many or as few Dedicated agents as you need.
CRM/Technical Capability. Dedicated Agents can be trained to handle much more advanced technical help (server setup, software and hardware troubleshooting, etc.)
Customized Account Training. Dedicated agents will receive more advanced agent training—especially for technical products.
Local languages. Need multilingual customer support? Dedicated agents can be hired to support all of your customers regardless of language.
2. The BEST Quality Assurance
Industry-leading quality assurance practices like daily chat reviews, 99.9% uptime, training quizzes, chat rating data, flexible QA Process, and a single account manager for continuity–ensure nothing falls through the cracks. You get: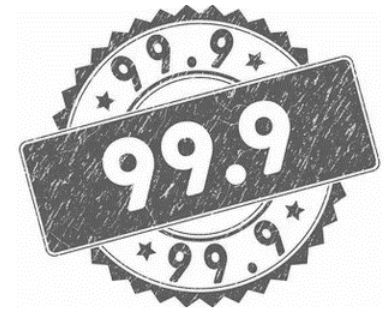 Daily Chat Reviews. Coaches review chats with agents daily to ensure your agents maintain a consistent and standard level of support.
99.9% Uptime. The live chat software used for the projects is owned and maintained by HelpSquad's sister company, LiveHelpNow–with a record of 99.9% system uptime 24/7.
Chat Rating Data. Chat Satisfaction scores mean you know exactly how pleased customers are with your support channel. This constant feedback helps your agents to continually improve.
Training Quizzes. Training quizzes verify the capability of the agents periodically as well as provide feedback on FAQ's and training methods.
Single Account Manager. Having a single account manager to interface with, ensures continuity.

3. The BEST Data and Dashboard
Get all the data you need with a live dashboard, google analytics, SLA's, Chat traffic Source Data, Chat Geography Data, Website Visitor Tracking, and weekly reports. Unique features include:
Weekly Report. You will receive a weekly email summary with all the metrics needed to understand how HelpSquad is performing. You'll be able to catch problems early and celebrate successes.
Reporting dashboard. If weekly email reports aren't enough, for an additional license fee you'll get access to dozens of reports to better understand your customer and support team.
Google Analytics Data. Tie in your reporting with Google Analytics and all of its connected integrations.
4. The BEST Support and Setup
Industry-leading support practices in CITY like website installation, multichannel support, 48 hr deployment time, and flexible contracts are the Hallmark of HelpSquad.
Website Installation and Setup. Helpsquad installation is a breeze, and customer success is there with you every step of the way.
Phone/Chat/email Support. Get access to HelpSquad live help agents to support your account by phone, email, and chat.
Quick Deployment Time. Get industry-leading customer support in as quickly as 48 hours.
Flexible Contracts. Monthly billing with no minimum commitment term. Annual contracts are also available. Get as much or as little support as you need, at a clear price with no hidden fees.

5. One of the BEST Chat Software and Bots
Powered by Business.com's "Best Overall Chat Software" since 2015, provides an enterprise chat experience to your customers with standard features like FB messenger integration, Post-chat surveys, and direct chat link. Unique features include:
Full-Featured Chat Software (built-in SMS). Seamless and sleek chat widget with SMS capability.
Mobile Chat Widget. You can rest assured your customers will have access to chat across web and mobile with no drop in quality.
Proactive Chat Greetings. Your visitors see proactive greetings that can be modified by page or user event. Your customers will know chat is there for them.
Chat Translation. Translation for 100+ languages native to the chat widget instantaneously. Agents can service ALL of your customers.
Chat Bot. Chatbots make both your life and your customers' lives easier, getting them directly to the information they're looking for without agent interaction.
Greetings. Bots can greet your customers by page and with multiple options for follow-up– the possibilities are endless!
Q&A Bot. Customers will be blown away when they have an entire support conversation with a chatbot that solves their problem and provides them the appropriate solution or escalates if needed.
Bot Analytics. Get reports on the efficacy and usage of your bots, and see exactly what your customers' interactions are and how the bots are handling them.
Plus, the Price Performance Leader for Live Chat Agents
Includes the lowest initial pricing of the major competitors in CITY for live help agents, plus…
Flexible Pricing. Monthly and annual pricing and you get the same advanced analytics and systems at every pricing level.
Simple Pricing. No hidden add-ons or guessing games, with no surprise bills if you accidentally go over your allotted message volume.

What's Holding You Back
Now that you've seen some of the advantages of HelpSquad, what's holding you back? The following are common questions about the live help agents.
We already have our own agents?

Our full-time professionally trained and coached agents can staff your chat 24/7 allowing your own staff to focus on other channels of support or tasks for your growing business.

How can HelpSquad Live Chat Agents know my business?

HelpSquad live help agents work off of FAQ's that you provide, to ensure that they are using the language of your business and representing your brand effectively.

I'm using another Chat provider.

While you would be required to move to the HelpSquad Platform our team will make the transition simple and the platform has been tested by 1000's of clients globally.

How do I know I'll get a return on investment?

With a 14-day free trial and no initial commitment, you'll be able to see the lead generation at no cost.

What if I go over the number of chats?

Unlike other providers, we don't charge for overages, if you consistently go over the number of chats your account manager will reach out to discuss upgrading to the next plan.

Your Old Life
Your prospect comes to your website after hours on a Friday. Nobody picks up the phone. There's a dusty old chat—the lights are on, but nobody is home. So… they leave an email.
Late Monday, three (3) days later, customer support sees the email and sends a reply asking for basic information. Really? The prospect sees their email, but it's after 5 pm their time—and again… customer support isn't live… again.  Too late. The prospect moves to a competitor in CITY who buys their product AND leaves you a bad review on Yelp.
Loser – Life Sucks

Your New Life
Your client comes to your website on Friday after hours but this time is proactively greeted with "Hi how can we help you today?"
The bot takes their basic information, but this time—one of your LIVE chat agents, trained 24/7 agents takes over the chat. Your agent sends a screenshot and a link to another product that will make their life easier. The system automatically logs the lead in your Zoho CRM. The prospect is intrigued—and told Sales will follow up on Monday.
Sales see the lead in Zoho, follows up and cha-ching, "Got another sale!" You hit your quota. Can you spell B.O.N.U.S!
Life is Good!
What's Next?
Contact Us for a live demo or free trial
Get a quote
Also available in the following cities: City1, City2, City3, City4, City5
---
Next Steps ( do NOT post the copy below on your website)
Copy this text to a page on your own site & format (remember to use H3/H4 tags for the headers since Google awards more points if it sees a keyword in a header).
If you copy the graphics, note they have alt tags with the keywords (live chat agents, live support, live chat agent)
Change everything in

RED

(Change "City" to your city, xxx-xxx… to your phone).
Change the URL for just this page to "live chat agents"
Add the metatag for the description: Get the BEST, affordable, live chat AGENTS to help manage online chats for pre & post-sales & support. Includes chat software, & metrics.
 Helpful SEO documents
LiveHelpNow SEO-Kit (zip). Contains the following documents:

LiveHelpNow SEO Presentation (PPT). Explains the concepts of SEO.
SEO for Resellers (Word). Contains the keywords to use for SEO and how to change your HTML to be optimized for LOCAL leads.
Internet Plan of Action (PDF). Shows all the steps to either create a website or re-vise a website.
Generic Site Plan-O-Gram (PDF). Shows the site map (Plan-o-gram) format for how a vendor site should be set up–this sample SEO page (above) is a "squeeze page" that combines many of the elements–so it pulls for local leads.
SEO Keyword Analysis – Sample (xlsx). A spreadsheet that shows how to set up your SEO research (not our category – but shows the process described in the plan of action).
Google SEO Guidelines (pdf). Basic instructions from Google that show how to optimize your website.
Q&A
Does this work?  Absolutely. One partner followed "some" of these points and only got to page three on a local search. After we helped them follow ALL the tips, they moved to the #1 position on the first page (and have never been beat).
What about local searches? Do I need to add my CITY?  Some folks have said that nobody searched for "live chat in Austin, TX." It doesn't matter–Google will ask if it can use your location (usually when searching for something local (dry cleaners, local pizza, etc.) and from then on it will know where you are from and will feed results based on your location (so use your CITY!!). This will get you local leads!
Validation
Below is a screen show of one of the actual partners in the first position after following these guidelines. We typed in "Call Center Software Manchester" and they had the first position: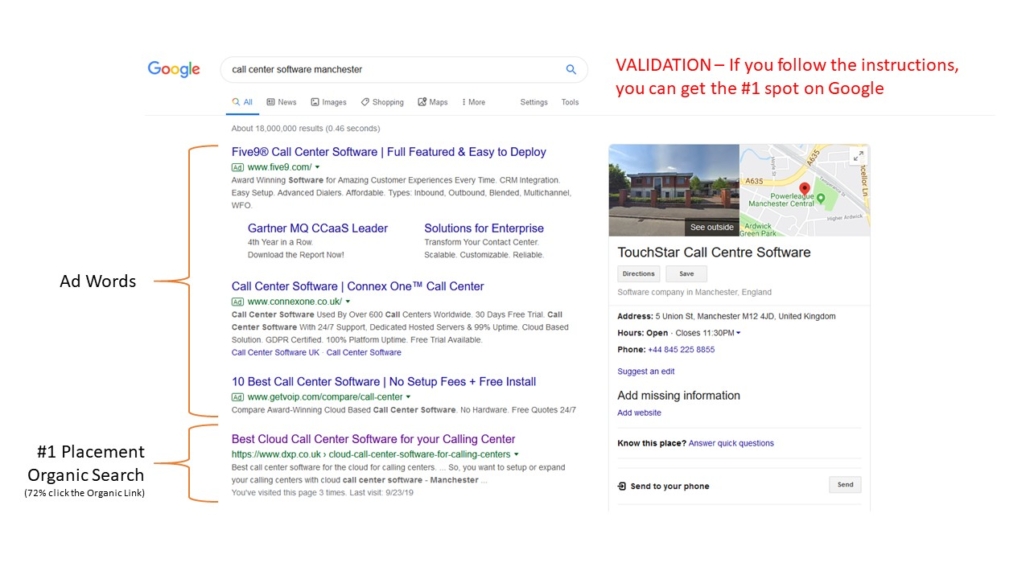 Video
This video shows you how to optimize this content on your website (it uses a few sample sites (versus our own content)–but the concepts are the same). 13-minute overview.